---
Published by Peradam 2018
8.8 x 9 inches
152 pages
74 color images
Hardcover, clothbound, linen with debossed leafed image
ISBN: 978-1-7320534-8-9

Edition of 350

To Denude is to strip (something) of its covering, possessions, or assets; to make bare.

The origins of the word Odalisque are oda (chamber) and lik (function). Chamber-function.

Each drawing in Denude is an altered reproduction of Reclining Nudes and Odalisques throughout Western art history. They have been "reduced" by the artist to its ubiquitous form: the horizontal curvaceous usually white female torso. This process is an uncomfortable imitation of the violence of the original painter's perspective and cultural context; a woman as a sexual object and tool for male pleasure, as well as the more recent violent perversion of Modernism in its incessant amputation of the female form. This work is not meant to perpetrate violence, but highlight it past and present.

In Denude, Jaeger has assembled the drawings into a flip book of a twisting figure, flattening any spatial or temporal context. The drawings are aligned by the belly button to the same spot on each page, with the same radius to the nipples and the crotch. This edition is hardcover clothbound, and organized double-sided so that if all the pages were transparent, the torsos would superimpose to make one form.
---
Anthology of Time
with contributions by:
Alex Ayed, Davide Balula, Emma and Peggy Barnett, Sarah Braman, Candystore, Chen Chen & Kai Williams, Ashton Cooper, Sara French, Jashin Friedrich,
S*an D. Henry-Smith
, Dan Herschlein, Madeline Hollander, Liz Hopkins, Chrissie Iles, Jenna Kaës, Elizabeth Karp-Evans, Aidan Koch, Emma Kohlmann, Sahar Khoury, Dylan Kraus, Ajay Kurian, Keith Lafuente, Silke Lindner-Sutti,
Maia Ruth Lee
, Bonnie Lucas,
Mary Manning
, Tavi Meraud, Harry Moritz, Isaac Nichols, John Arthur Peetz, Nikholis Planck, Betty Roytburd, Vanessa Gully Santiago, Anna Sedlock-Reiner, Gedi Sibony, Mimi Smith, Amelia Stein, RJ Supa, Kristin Walsh, Clemence White, and Zak Kitnik
OUT OF STOCK
Co-published by
Peradam Press and
Jack Hanley Gallery in 2019
5.5 x 8 inches
134 pages
perfect bound
ISBN : 978-1-7320534-2-7

Edition of 250 copies




The clock is a human-made tool to measure intervals of time shorter than the natural units: the day, the lunar month, the seasons, the year. Commonly marked in increments of one second, five minutes, one and twelve hours, the clock visualizes both the perpetual advancement and cyclical nature of time.

The hands of the clock move only forward as time advances through a series of present moments. With each tick, time stammers towards a human-made idea of the future, leaving the past as a memory in its wake.

Simultaneously, the hands of the clock move in a circular repeating motion, fixed by a center. This motion echoes the planets rotating around the sun, manifesting days, nights, and longer seasonal shifts. Because there is a natural cycle, we can predict the relative future with accuracy, and find unmistakable patterns throughout past personal and collective histories.

The standardization—or rather, industrialization—of time started in 1884 with the International Meridian Conference to create a supposed facility between nations. The world was divided into 24 time zones with a politically chosen "base time" in Greenwich, UK. Coordinated Universal Time (UTC) is now synchronized around the world at midnight by means of GPS between government protected "Master Clocks" whose precision is based on the radiation given off by a cesium-133 atom. Before that, time was set in each municipality of the clock-using world by the daily local position of the sun at noon. With standardization, humans became in-synch with each other, and divorced from the natural world and our natural rhythms. "Noon" is now blocked into segments radiating out from colonial political powers, no longer the sun directly above your head.

In this book you will find a variety of interpretations of time shared by 42 artists, compiled as an anthology to complement the exhibition Horology at Jack Hanley Gallery, on view from November 14th–December 15th, 2019.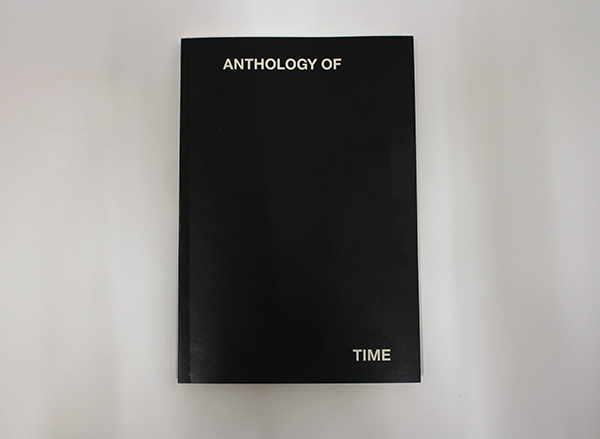 ---
September 2018
4 ¼ × 7 inches
184 pages
Perfect bound softcover book
18 b&w illustrations
978-1-7320534-1-0

Edition of 500
The publication Margaret van Eyck – Renaming an Institution, a Case Study (Volume Two: Comments, Contexts, and Connections), edited by book designer and researcher Hagen Verleger, is the second of a two-volume endeavour documenting Margaret van Eyck, an ongoing, collaborative research project at the intersection of feminist intervention, institutional critique, and the politics of (re-)naming, initiated by Verleger during a residency at Van Eyck, Maastricht.

The second of two books functions as a commentary on what is documented in the first one. It is what could be called a sourcebook, a collection of 'readings' and contextualisations of the project, containing a series of texts (academic papers, essays, conversations, and poems) that reference Margaret van Eyck in one way or another: from explicitly examining (even problematising) specific dynamics within the project to tangentially suggesting kindred ways of thinking in their own practice. With contributions by Afro Xylanthé, Alexandra Phillips, Dominique Hurth, Hagen Verleger, Katherine MacBride, Levi de Kleer, Luca Soudant, Madelon Hooykaas, Martino Morandi, Matylda Krzykowski, Mia Melvær, Nick Currie, Nina Glockner, Raewyn Martyn, and Sachi Miyachi.

The first book (ISBN 978-1-7320534-0-3), published in March 2018, is a primarily visual (i.e. pictorial) 'essay' and comprises of research material, work process ephemera, and photographic documentation of the project, as well as some shorter written pieces.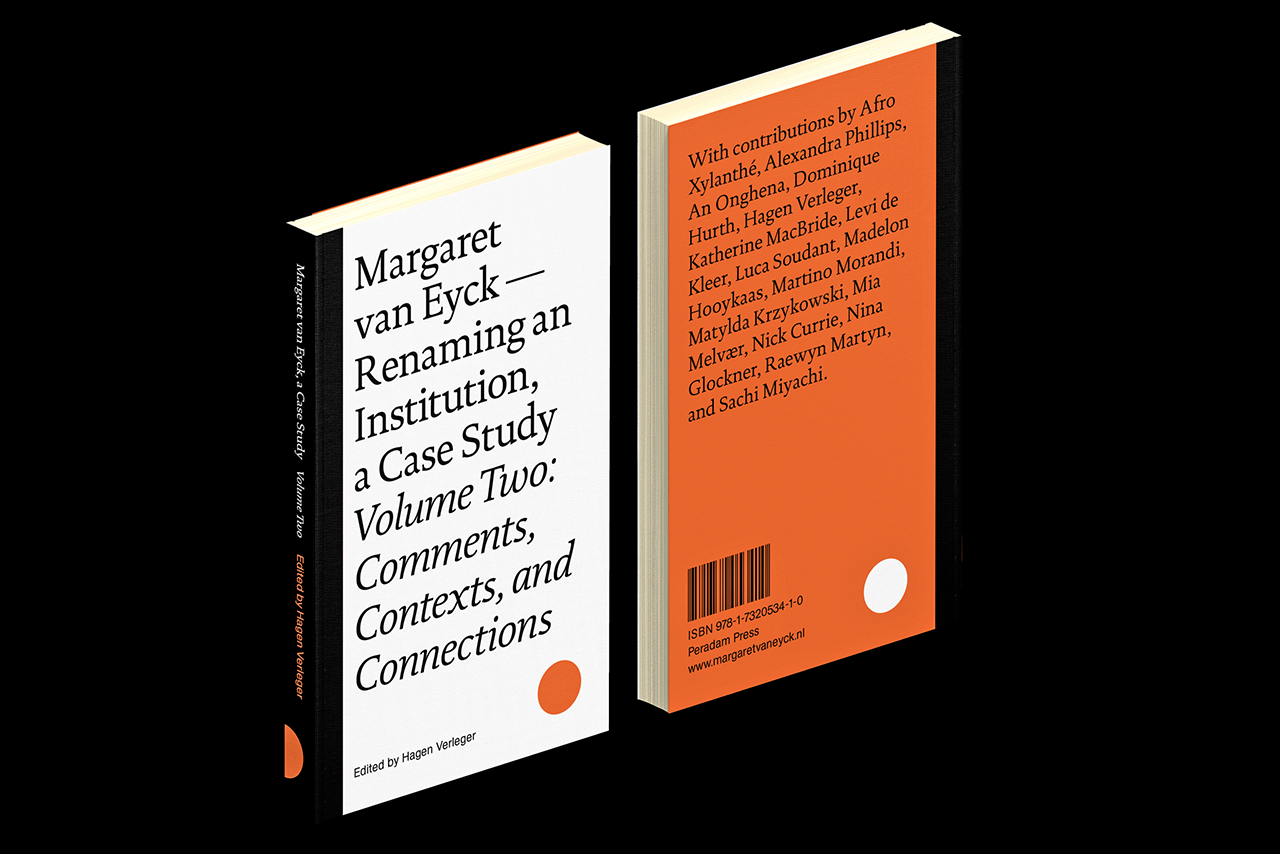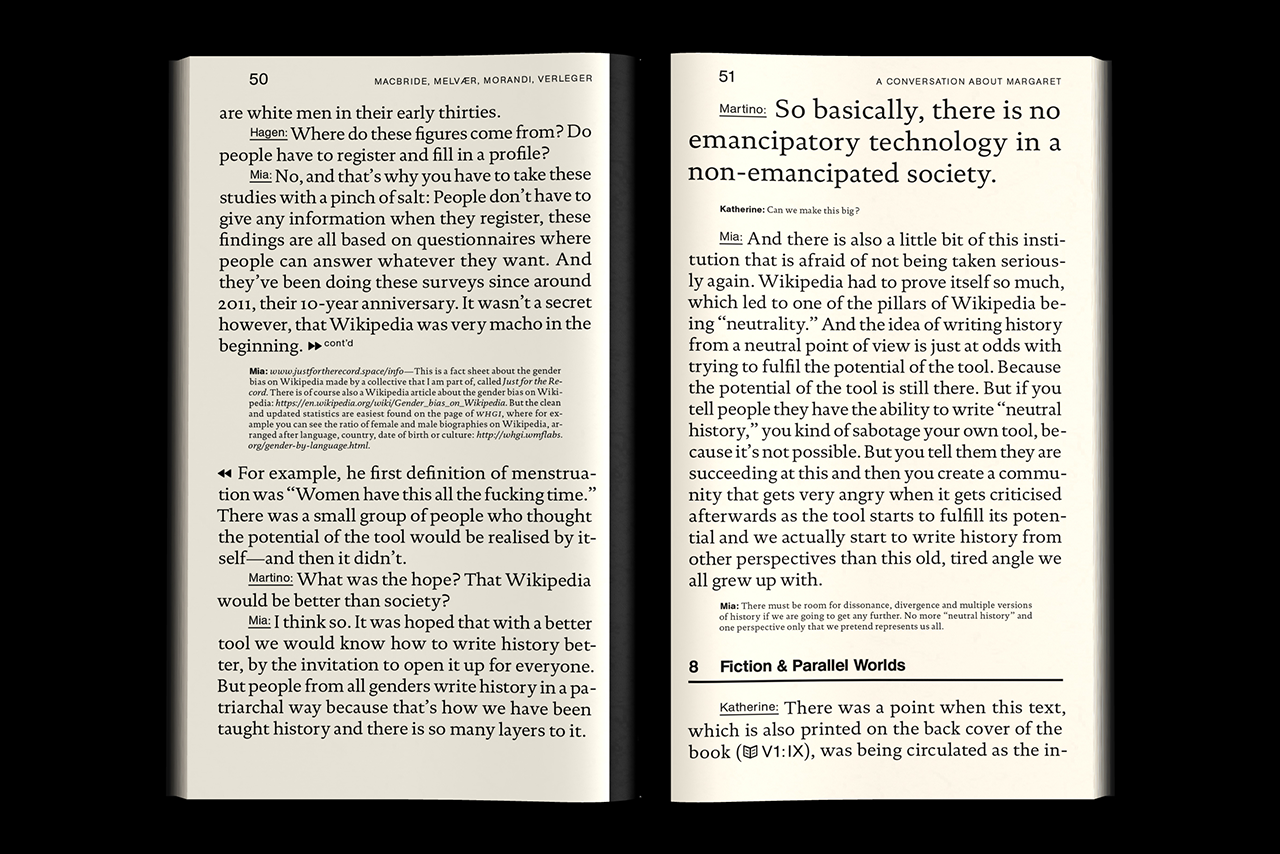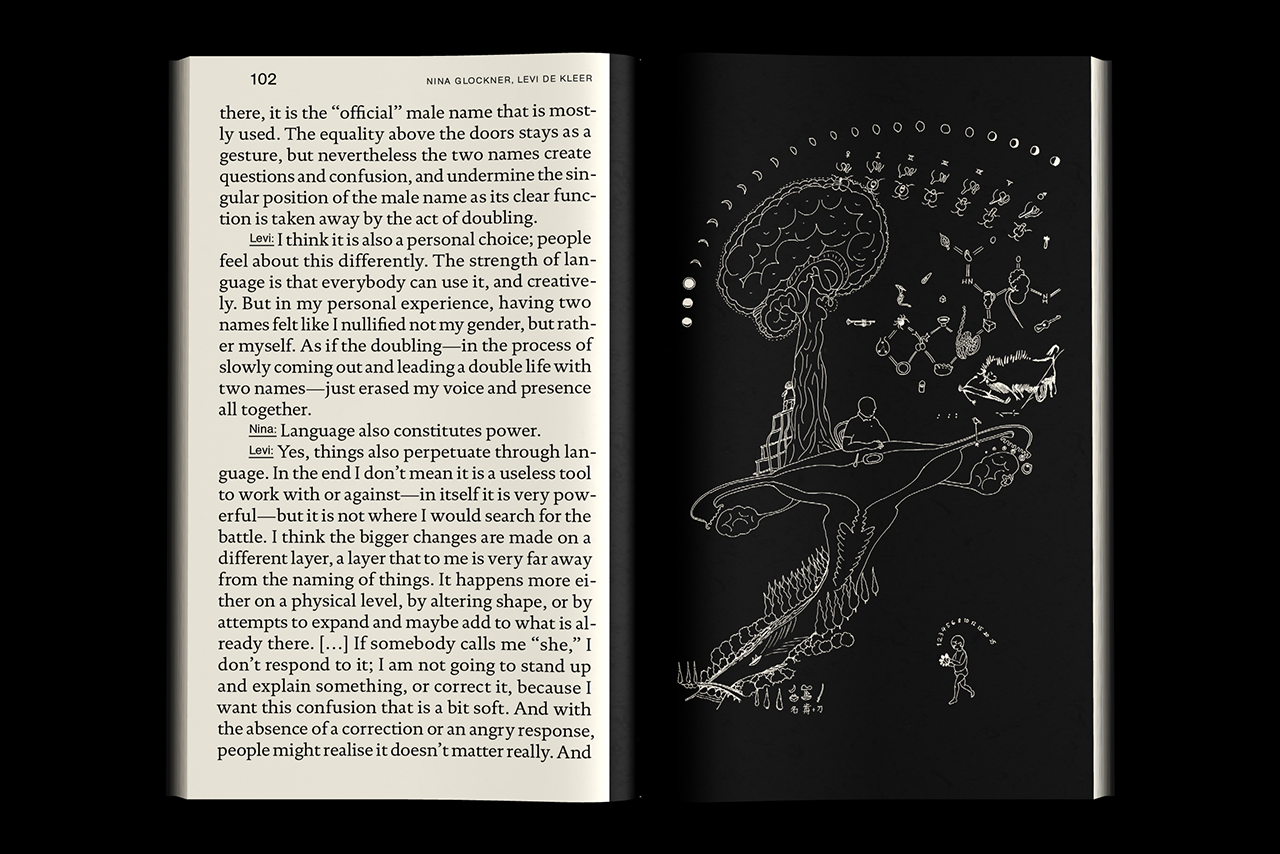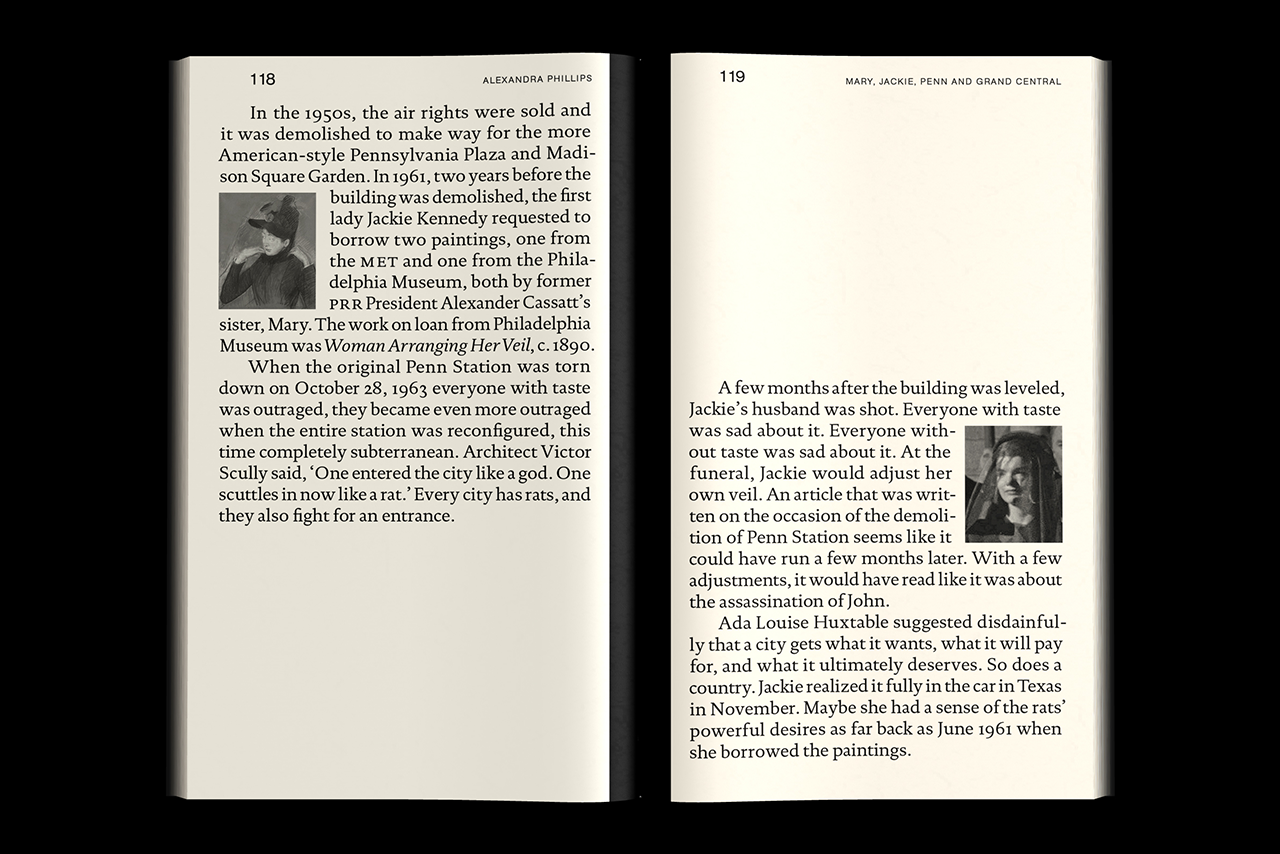 ---
Published in 2016
4.25 x 6.75 inches
200 pages
Perfect bound
ISBN: 978-0-9906448-6-6

Edition of 150
A romance novel and a flip book.